C.E.R.T.S.
With CERTS, AACM Members (qualified Management Company Member employees and Individual Members) are able to:
Apply for the prestigious CAAM® Certification Program, the only Arizona-specific community management certification program.
View upcoming classes offered by AACM
Register for CAAM® Certification and CEU classes
Track progress toward certification, including classes completed and required paperwork
Track Continuing Education Units (CEUs) earned and certification renewal dates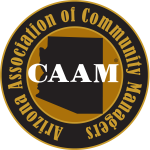 AACM Education
Professionalism, accountability, and education are of utmost importance to credibly and capably represent the tens of millions of dollars of real estate throughout Arizona. To that end, AACM developed its Certified Arizona Association Manager (CAAM®) Certification Program.
AACM Legislation
The Arizona Association of Community Managers was born to give voice to management companies and association members at the legislative level, and to establish a high standard for education, ethics, and sound business practices for management companies throughout the State of Arizona.
Looking for a Management Company?
Click to fill out an online request for proposal!
JOIN AACM!
Get information regarding joining AACM! Use the links below or call our office at (602) 685-1111 or (520) 334-200
Contact Us
Arizona Association of Community Managers
668 N. 44th Street, Suite 229E
Phoenix, AZ 85008
Phone: (602) 685-1111
Fax: (602) 685-1101
Family, Friends, Partners, and Members:
AACM has built a playhouse to raffle off with our proceeds going to the HOPE Grant, which assists homeowners in our communities with financial difficulties.
You don't need to be a member of our industry to purchase a ticket and WIN! Spread the word to all you know that might be interested!
The tickets are $20 each with the ability to pay by check, cash, or call into our AACM office (602-685-1111) and pay with a credit card.
See flyer with more information and a picture of the playhouse. Please reach out to any AACM Team Member to get tickets or information.
Check out AACM Upcoming Events
Showcasing our Affiliate Partners!!!
Our Members Professionally Manage HOA Communities!
Arizona Association of Community Managers (AACM) is a non-profit professional trade association in which Membership is comprised of community management companies and individual on-site managers. Our Affiliate Partner Program consists of vendors who provide goods and services to HOA communities and management companies.
AACM was born to give a voice to management companies and association members in the legislative level and to establish a high standard for education, ethics, and sound business practices for management companies throughout the state of Arizona.
Homeowner Association Boards can feel confident when they choose an AACM Management Company, or AACM Individual On-Site Manager, to manage their communities. Combine AACM's Code of Ethics, Membership Standards, and CAAM Certification Program, with outstanding Affiliate Partners and it's a win-win for Arizona communities.
AACM is designed specifically to meet the needs of Arizona!
AACM CEU & CAAM Program Update
In the interest of keeping everyone healthy, the AACM Board of Directors has made the decision to hold all AACM CEU and CAAM Program classes online through December 31, 2020.
The Specialty Certificate courses, Portfolio Management, Large-Scale and High-Rise, have been moved to 2021. If you or one of your community managers have registered for any of the Specialty Certificate courses, please select alternative classes within the CERTS website for 2020.
Please note that if you have registered for luncheons & events for CEU credit you will need to log into the CERTS website to choose different classes for these CEU credits.
If you have any questions please reach out to your Education contact.
Arizona Governor Doug Ducey proclaims October 14-18, 2019, Community Manager Week!
To view a copy of the Governor's Proclamation - CLICK HERE
Governor Doug Ducey congratulates AACM on our 15th Anniversary - CLICK HERE